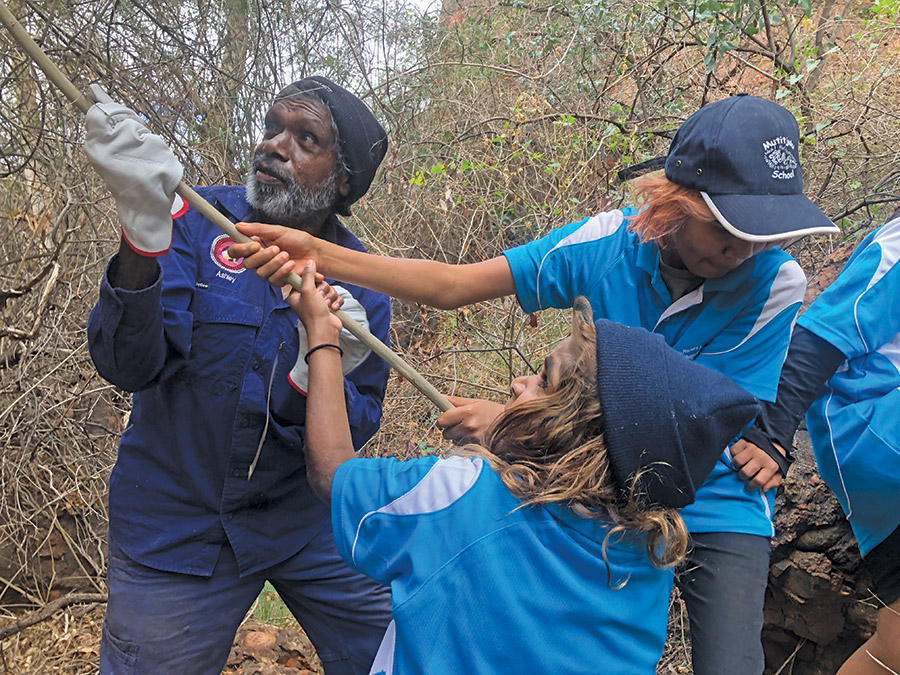 Students in Mutitjulu, Watarrka and Utju are soaking up traditional knowledge at school, thanks to a partnership between Tangentyere Council Land and Learning and the traditional owners of the Uluru – Kata Tjuta National Park.
Each school worked with local elders to plan bush excursions and what they wanted to teach on the trips.
Utju studied bush medicine plants, with students learning to prepare rubbing medicine from the witjinti plants they had collected out bush, and drinking and rubbing medicines from ilintji.
The elders' knowledge, along with the students' drawings and photos of the excursions, were then used to create teaching resources in Pitjantjatjara and English.
At Utju, they made two language books, Irmangka – Irmangka Palyantja, about making rubbing medicine from eremophilas, and Punti, Muur-muurpa, Witjinti munu Ilintji, Utjuku miritjina irititja kuwaritja, about how to use senna, bloodwood, corkwood and native lemongrass.
"It was a good story and the pictures too. Palya, it's colourful and a good story," assistant teacher Rachel Tjukintja said.
Teacher-linguist Leanne Goldsworthy agreed. "The book is beautiful and informative. It's a great resource to have and a record of knowledge so it won't be lost," she said.
Anangu elders, the CLC's Tjakura Rangers and the national park rangers took Mutitjulu students to Kata Tjuta to harvest urtjanpa (spearwood). They cut mulga wood for wana (digging sticks) and clap sticks from the surrounding woodlands and collected kiti (resin) from the mulga leaves.
They also made kulata (spears) and dug for maku (witchetty grubs). Back at the school, the elders showed the students how to finish their punu (wooden tools) and prepare kiti. They helped the students to record on worksheets what they had learnt. "We make kulata, wanaand music sticks. It was fun, I liked it," student Sarah Lee Swan said. "The ladies teach us how to make them from the tree with different tools. I want to go camping next time." Student Nazeeria Roesch agreed. "Yeah, fun. I make stick. I look for maku. Yes, let's go again," she said.
Maruku Arts provided the tools for this pununguru palyantja (making tools from trees) trip. With some planned trips cancelled due to COVID-19, Watarrka students illustrated Yaaltji ngiyarilu tjilka mantjinu (How the thorny devil got his spikes), a story told by Brian Clyne and translated by Julie Clyne.