Leasing and licensing Aboriginal land
We receive many requests from government agencies, public sector corporations, mining and other commercial interests (all so-called third parties) for permission from traditional owners to undertake a range of activities on their lands.
For responsible, generally beneficial activities, we support formalising land tenure arrangements in communities on Aboriginal land because it properly recognises the rights of the traditional owners, and also because it provides certainty for the activities and those undertaking them.
If you would like to apply for a lease, licence or other interest on Aboriginal land, please read the information on this page before you apply.
Please note that it is not possible for traditional owners or their relevant land holding associations and corporations to grant leases and licences over some forms of Aboriginal land.
If you would like to discuss your application before submitting it, please call us on 08 8951 6211, visit us at 27 Stuart Highway in Alice Springs, email leasing@clc.org.au or write to:
Leasing
Central Land Council
PO Box 3321
Alice Springs NT 0871
Aboriginal land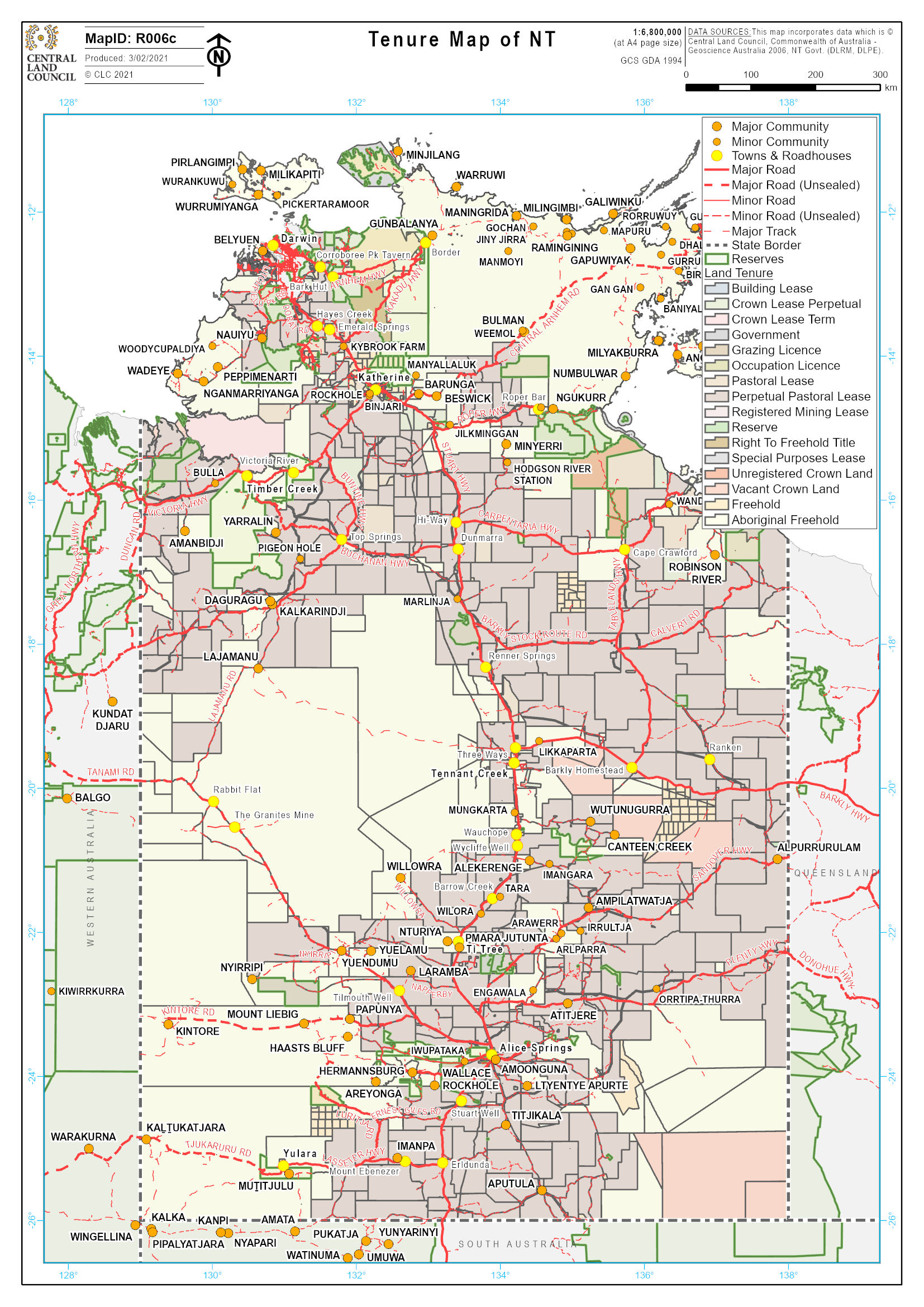 The term Aboriginal land in the Northern Territory can mean different things. It is mostly used to describe freehold land granted under the Aboriginal Land Rights (NT) Act 1976 (Land Rights Act), as marked on this map. It can also mean freehold land granted to Aboriginal associations or corporations under NT laws, for example community living areas excised from pastoral leases and less common types of Aboriginal land.
Land under native title is not Aboriginal land because native title rights are not granted by governments or courts. These are recognised customary land-related rights of native title holders under the Native Title Act 1993. Sometimes we represent native title holders when third parties wish to obtain access to crown land or pastoral leases.
Different communities are on the different types of Aboriginal land (also called tenures or titles). Different laws apply to the different types of Aboriginal land, and where native title is held.
Note, Aboriginal land exists immediately surrounding towns such as Tennant Creek, Ti Tree, Kalkaringi and Alice Springs, all towns within which standard land leasing and licensing arrangements generally apply without reference to the CLC. If you are seeking a lease or licence outside these towns, or within or outside communities on Aboriginal land, please contact us about the land tenure and whether the land can be leased or licensed.
Major communities
Most applications for leases and licences we receive relate to Aboriginal land in Aboriginal communities.
Whether or not you can or must apply for leases, licences or other interests in these communities depends on the community's land tenure.
It is either Aboriginal freehold under the Land Rights Act (ALRA) or community living area (CLA) land – freehold land under various NT laws. One community is still under claim (UC).
For ALRA communities please use this form to apply for leases, licences or other interests.
Aboriginal associations and corporations holding title to CLAs are unable to grant leases or licences because the relevant NT laws prohibit such grants in most cases. We are advocating for effective and comprehensive reform of these laws.
Alekarenge
ALRA
Ka

lt

ukatjara (Docker River)
ALRA
Alpurrurulam
CLA
Lajamanu
CLA
Amoonguna
ALRA
Mount Liebig
ALRA
Ampilatwatja
ALRA
Nturiya (Ti Tree Station)
ALRA
Aputula (Finke)
Not Aboriginal land
Papunya
ALRA
Utju (Areyonga)
ALRA
Pmara Jutunta (Six Mile)
ALRA
Atitjere (Harts Range)
CLA
Ltyentye Apurte (Santa Teresa)
ALRA
Canteen Creek
UC
Titjikala
CLA
Daguragu
ALRA
Wallace Rockhole
ALRA
Engawala
CLA
Walungurru (Kintore)
ALRA
Ikuntji (Haasts Bluff)
ALRA
Wilora
CLA
Ntaria (Hermannsburg)
ALRA
Wutunugurra (Epenarra)
CLA
Imangara (Murray Downs)
CLA
Yuelamu (Mount Allen)
ALRA
Imanpa
CLA
Yuendumu
ALRA
Kalkaringi
Not Aboriginal land