All persons who wish to enter and remain on Aboriginal land must provide evidence of their COVID-19 vaccination status as part of their permit application process. This will usually be done by uploading their COVID-19 Digital Certificate to the CLC permit system.
For all permits except the Mereenie Tour Pass, apply online here. The Mereenie Tour Pass is available from Tourism Central Australia, from locations on the Mereenie Loop Road (see Transit Permits), and from our reception at 27 Stuart Highway, Alice Springs.
For further questions come to our reception, call on +61 (08) 8951 6211 or email permits@clc.org.au
Once we have received your application we will consult the relevant traditional owners and/or communities. If they approve the application, we will email or fax the permit to you, or you can collect it from our reception. Transit permits are self-issued online.
Our permits are a legal requirement under federal and Northern Territory (NT) laws.  
As this map  shows, Aboriginal people own more than half the land in our region as inalienable freehold title under the Aboriginal Land Rights (NT) Act 1976. The title is similar to other freehold title but the land cannot be sold or transferred. The land is private land.
Most people wanting to visit this land require a written permit. Fines for unauthorised entry are up to 10 penalty units ($2100 as at 1 May 2020).
As their legal representative, we have an obligation to consult traditional owners of the land and/or affected Aboriginal communities about permit applications. The permit system complements Aboriginal spiritual responsibilities for the land, and:
promotes visitor safety;

protects the environment, Aboriginal sacred sites and Aboriginal cultural and intellectual property;

protects the privacy of Aboriginal ceremonies and other cultural events;

promotes awareness and respect for Aboriginal land and culture;

polices unscrupulous behaviour in remote areas where trespass laws are difficult to police;

facilitates Aboriginal participation in commercial and other projects.
Travellers on non-public roads through Aboriginal freehold land.

Contractors.

Visitors staying overnight or longer in a community.

Visitors to outstations, homelands and other Aboriginal land outside larger communities.

Anyone conducting research, commercial (including mining and tourism), road, civil or capital works or ecological projects on Aboriginal land except for government workers.

Organisations and individuals from outside the CLC region conducting community projects.

Media, including commercial photographers or film makers, operating off public roads and areas.
Anyone passing through an Aboriginal community via a public road can visit public areas such as the store, art centre or local government office without a permit. A transit permit is required if the community is accessed via a non-public road.
Government workers – from local, territory and federal government – may obtain their permit from their Minister to enter Aboriginal land for the purposes of their work.
If you are not sure if you need a permit, contact us on +61 (08) 8951 6211, visit us at 27 Stuart Highway in Alice Springs or email permits@clc.org.au
The CLC issues the following permits:
Transit permits.

Entry permits, including for mining companies.

Media permits for public interest journalism.

Media permits for commercial/for-profit media projects.

Special purpose permits for research, tourism and community and ecological projects. 
Transit Permits
Travellers transiting Aboriginal land on the yellow non-public roads on the map and in the notes immediately below require a transit permit.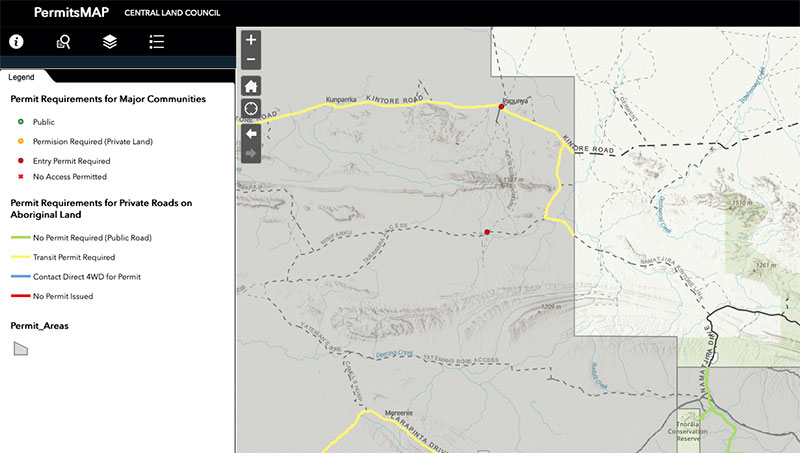 The transit permit for the

Tjukaruru Road

between the Ulu

r

u—Kata Tju

t

a National Park and the WA border allows access to Tjunti (Lasseter's Cave) for sightseeing during the day. Camping is only allowed at the Ka

lt

ukatjara (Docker River) campground.

Gary Junction Road

between Papunya and WA border. 

The

Sandy Blight Road

between Kintore and Ka

lt

ukatjara (Docker River) is a rough road that takes a full day to travel. It enters Western Australian land requiring a separate permit from the Ngaanyatjarra Council in addition the CLC transit permit.

 

The

Glen Helen–Papunya Road

transit permit allows day access for individuals only (not commercial tour groups) to Ikuntji (Haasts Bluff) for the sole purpose of visiting the Ikuntji Arts Centre. Photography and driving around the community are not permitted. For commercial tour groups and all other purposes an entry permit is required.

The transit permit for the

Mereenie Loop Road

is not available online.

The Mereenie Tour Pass for the road between the Kata Pata Pass and Watarrka National Park combines a transit permit with a visitor information booklet and map. It is free from the CLC reception at 27 Stuart Highway Alice Springs but also available for a small fee from 

Tourism Central Australia

, the Ntaria (Hermannsburg) Store, Glen Helen Resort and Kings Canyon (Watarrka) Resort. Camping along the Mereenie Loop Road is not permitted, making this road unsuitable to transit by bicycle.
Entry Permits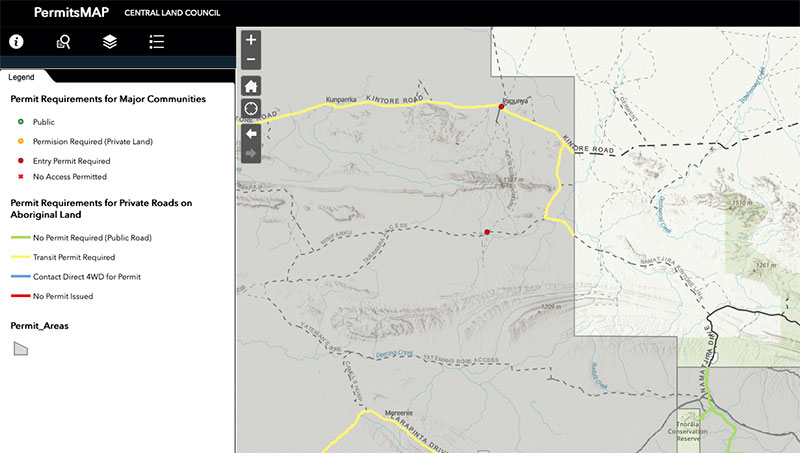 Entry permits are required for entry onto, stays on and travel through Aboriginal land via non-public roads not covered by a transit permit.

This applies to:
Visitors to communities, including outstations or homelands.

Contractors.

Road, civil and capital works and maintenance personnel not on government contracts or staff.

Workers whose organisation does not have a statutory permit arrangement with CLC.

Telecommunications technicians.

Employees of mining, oil/gas and exploration companies.

Visitors to or from the Simpson Desert (Madigan Line, Hay River Track and Colson Track).

For more information here please call (08) 8951 6211 or email permits@clc.org.au
Media Permits 
No media permits are required to travel via public roads to communities on Aboriginal land and to visit public areas of these communities. 
We strongly advise journalists to make contact with relevant regional Aboriginal media organisations, such as Pintupi Anmatjere Warlpiri (PAW) Media, before travelling.
A media permit is required to travel through Aboriginal land on non-public roads, entering onto that land and staying overnight in communities. 
Media permit A  is for public interest journalism such as news of the day and current affairs. 
These applications will be processed as soon as possible. Depending on the circumstances, for example the extent of consultations required with traditional owners or communities, they may take up to 10 days. 
Media permit B is for for-profit media projects involving filming, video and audio recording, photography and writing a book and for more complex media projects involving a significant impact on Aboriginal people's privacy and property. 
We will let applicants for media permits B know within 10 days how long processing their permit is likely to take and whether costs and/or an agreement negotiated as a condition of the permit will be involved. 
If the subject matter is of a sensitive nature, the proposal is lengthy or there are concerns about the proposal, traditional owners may require the submission of a script, shotlist or storyboard to assess the application.
For more information please call +61 (08) 8951 6217.
Special Purpose Permits
A special purpose permit is required for general, environmental or health research and tourism, community and ecological projects on Aboriginal land, including all communities.
Please carefully read the information here to ensure your permit is processed without unnecessary delays.
We issue transit and simple permits free of charge. Applicants for complex commercial and media permits may be asked to contribute to the cost where extensive consultations and/or agreement negotiations are required. In areas where permit access entails maintenance or rehabilitation by the landowner (e.g. Simpson Desert) any appropriate fee will be advised at the time of application.
Providers of the Mereenie Tour Pass (other than the CLC) charge a small fee.
No. Travellers in a group can list all vehicles and the names of all passengers on a single application.
Rare refusals are usually because of traditional ceremony activity, a large funeral or poor road conditions following rain in the area.
Many roads in the NT are unsealed and prone to flooding. Their conditions can change quickly. Call 1800 246 199 (within Australia) or visit this NT Government site to check road conditions. 
Check road conditions before travel.

Never travel without plenty of water.
Stop driving, and rest when tired.
Reduce your speed and consider driving in four-wheel drive on unsealed roads.
Take extreme care passing road trains especially on narrow or unsealed roads.
In the event of an accident or breakdown, stay with your vehicle and in the shade. Outback Vehicle Recovery is a private, Alice Springs-based company contactable on (08) 8952 1087.
The possession, consumption and sale of alcohol on Aboriginal land is prohibited and severe penalties apply.
Residents of Aboriginal communities may apply for alcohol permits; and transit visitors may carry alcohol provided they don't drink it on Aboriginal land, including in all communities. 
For more information about alcohol restrictions in communities and urban areas go to here.
Filming and photographing Aboriginal land for non-commercial, private purposes requires no permit. A media permit B, and in some cases a supplementary agreement, is required to photograph or film for commercial or publishing purposes. 
Do not photograph people without their permission. To extend their welcome, Aboriginal people may not deny a request for a photo even if they don't want or agree to it. Get to know them before asking to take photos, be respectful and use discretion.
Rarely. Some communities have basic visitor accommodation run by the regional (local government) council office. Kaltukatjara (Docker River) has an overnight visitor camping area. Ntaria (Hermannsburg) has a camping area with cabins.
For more information about remote communities and accommodation go to here.  
Visiting Aboriginal Land
Aboriginal land is private land requiring permission to visit. The CLC permit system facilitates regulated access to Aboriginal land for visitors, media, researchers, other workers and special projects. Permits are free and rarely refused.
The permit system is essentially about asking before visiting. Entry to Aboriginal land without the right permit can result in a fine of up to $1000.
Consult the frequently asked questions above to see what permits you might require.
Applications can be made online for all permits except for the Mereenie Tour Pass, which is available at CLC reception, 27 Stuart Highway Alice Springs, from Tourism Central Australia, the Ntaria (Hermannsburg) Store, Glen Helen Resort, Kings Creek Station and the Kings Canyon (Watarrka) Resort.
Generally for visitors and workers not on government staff staying in Aboriginal communities or entering Aboriginal land. These permits take at least a week to process, depending on the application and the necessary consultations with traditional owners and/or communities.
Apply for a mining entry permit
For entering Aboriginal land for mining and oil/gas meetings, development exploration or related activities. These permits are usually processed within five working days, although novel or complex permit applications may take longer. To avoid delays to your schedule, please provide an entry date on your application that is no sooner than five working days from the date of application.
For travel through Aboriginal land on the Tjukaruru (Docker River), Gary Junction (Kintore), Sandy Blight, Glen Helen—Papunya and Mereenie Loop roads.
For public interest journalism such as coverage of news of the day or current affairs.
For for-profit media projects involving filming, video and audio recording, photography, and writing a book and for more complex media projects involving a significant impact on Aboriginal people's privacy and property.
Apply for a special purpose permit
To enter Aboriginal land for research, ecological projects, tourism and allied activities, and community projects run by organisations or individuals from outside the region. All research applications require Central Australian Human Research Ethics Committee approval. Allow at least one month for special purpose permits because extensive consultations with traditional owners and/or communities may be required.
SIMPSON DESERT
The Traditional Owners of the country that is traversed by the Madigan Line, Colson, and Hay River Tracks have agreed to open the tracks to visitors this season, subject to permit requirements.
Permits for the Madigan Line and Colson Track will be issued with new permit conditions. Apply here
Please apply for any entry for the Hay River Track here and then email the application number along with details of vehicles and the number of people travelling to batton.hill@outlook.com
Please read the frequently asked questions for further information about our permits, contact us at +61 (08) 8951 6211, visit us at 27 Stuart Highway in Alice Springs or email permits@clc.org.au
Enjoy your visit!