Tourism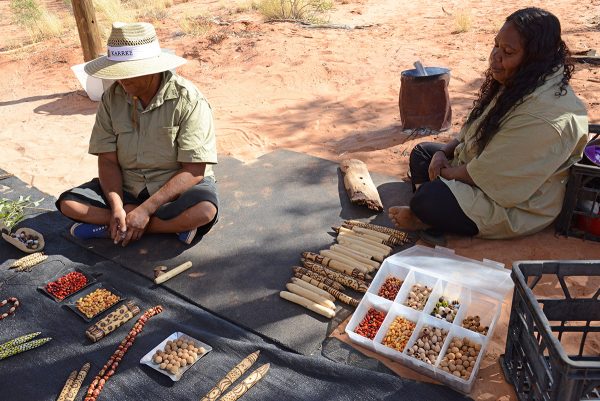 Traditional owners and visitors alike value tourism as an exchange that draws on and supports the ongoing relationship of Aboriginal people with their country and culture.
Aboriginal tourism products in our region reflect a variety of languages, landscapes and interests. They include cultural experiences for visitors in the many spectacular jointly-managed national parks and surrounding Aboriginal land.
Karrke's Aboriginal cultural tour in the Watarrka National Park offers visitors a chance to learn about local arts and crafts, bush foods, medicinal plants and the Luritja and Pertame (Southern Arrernte) languages. https://www.karrke.com.au/
At the cultural centre of the Uluru – Kata Tjuta National Park, Maruku Arts runs an art gallery where local artists give outdoor painting classes and woodcraft workshops and perform inma (ceremonial songs and dances) at special events. https://maruku.com.au/
The Uluru family hosts tours to their homeland Patji, south of the eponymous rock, in partnership with Yulara-based operator SEIT. Their guests learn about the family's history and fight for lands rights while enjoying the beautiful dune landscape.At Palm Valley in the Finke National Park, the Yalka-Ratara Aboriginal Corporation offers cultural and adventure experiences in partnership with established tourism operators. Email: reception@ngur.com.au
Well-planned and managed tourism activities deliver important social, economic and land management benefits to traditional owners.
We help them to develop their own tourism businesses on their land and engage with the tourism industry on their own terms.
Traditional owners see tourism as a way to strengthen their connections to and care for country, but also to share their knowledge of it with their young people as well as visitors, create jobs for family members and contribute to the sustainability of their communities.
We support them with:
research and planning of local tourism products
access to specialist business and tourism mentoring and seed funding for tourism experiences and infrastructure
skills development through direct, practical experience of tourism and testing of tourism products
building capability, networks and experience through partnerships with established tourism operators
site protection and management of tourism impacts
We have a statutory responsibility to consult with the traditional owners and other affected Aboriginal people about any tourism proposals on Aboriginal land in our region and to help them to negotiate agreements.
These agreements deal with access arrangements, leases, licences, fees, insurance, training and employment of local Aboriginal staff, the use of local Aboriginal contractors, and the assessment and mitigation of impacts of the proposed tourism activity.
Call 08 8951 6211 for advice on the development of proposals.
With our support, more and more Aboriginal people in the CLC region are enjoying the positive impacts of tourism.