PROTECTING THREATENED SPECIES
We help traditional landowners to protect vulnerable, endangered and culturally significant animals and plants. We combine their ecological knowledge with Western scientific approaches to improve conservation outcomes across our region.
Our rangers collaborate with scientists to survey plants and animals. They monitor waterholes for the presence of feral animals and test the water quality, using motion-sensor cameras, water meters and tracking apps.
That's just some of our varied work across the vast CLC region depending on the threats.
Our rangers monitor populations of the endangered Slater's skink and manage fire and weeds on Loves Creek Station (Ltyentye Apurte Rangers), at the Finke River (Tjuwanpa Rangers) and at Utily (Anangu Luritjiku Rangers). The Anangu Luritjiku Rangers discovered new populations, extending the known range of the skink species. In an agreement we helped broker, traditional owners from Ntaria (Hermannsburg) permitted the Alice Springs Desert Park to take a small number of skinks for a captive breeding program to help with the recovery of the population.
The Tjakura, Kaltukatjara and Walungurru ranger groups have meanwhile extended the known range of Great Desert skinks on the Katiti–Petermann Aboriginal Land Trust and near Kintore. The groups' patch burning helps protect skink burrows from wildfires, encouraging a healthy ecosystem that also benefits other native plants and animals. Our rangers learn about tracking from senior traditional owners, and several ranger groups have participated in radio tracking skinks as part of a scientific research project, bringing ancient and modern knowledge to bear to locate endangered populations.
Our rangers have been monitoring black-footed rock wallabies for many years. In the greater Tanami region, our rock wallaby work has focused on a joint project of the Warlpiri Rangers and the Australian Wildlife Conservancy's Newhaven reserve staff to control feral cats and foxes in the Siddeley Range. A collaboration between the CLC and Anangu Pitjantjatjara Yangkunytjatjara Land Management saw a thorough survey of these wallabies in the Mann Ranges, with rangers and staff helicoptered into the ranges along the Northern Territory and South Australia border.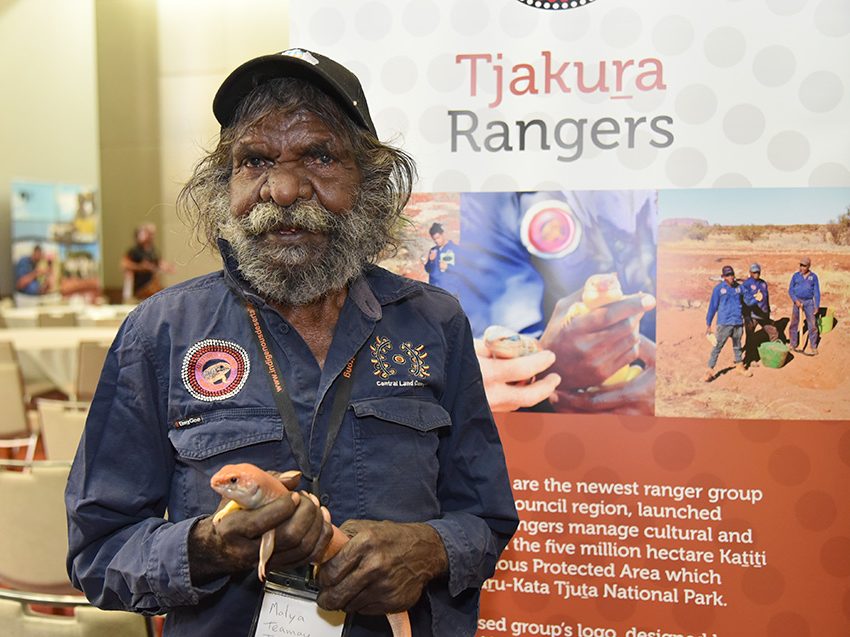 We frequently scale the heights for threatened species. Rare rock rats were recorded on Ulumburru (Mount Edwards, near Papunya) in surveys we conducted utilising motion-sensor cameras on five mountain tops identified by NT government scientists as possible habitats for this species.
From the mountain tops to the pits, we've long collaborated with miners Newmont Goldcorp on the Tanami Desert biodiversity monitoring program. Newmont provides staff, funds and access to mining camps while our rangers collect annual base-line data to assess the cumulative impacts of mining and mineral exploration on the region's biodiversity. Running since 2005, it's one of a handful of long-term biodiversity monitoring datasets for arid Australia.
Knowledge enhanced, survival chances too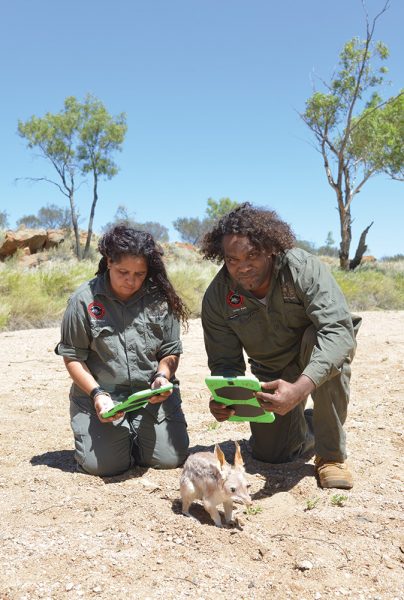 Indigenous ecological knowledge is now widely accepted, indeed sought, in conservation efforts and of course increasingly applied in the management of Aboriginal land. So too the latest technology. And it doesn't stop when threatened species are located.
Our rangers put their ecological knowledge to use with tablet software to survey and record animal tracks, scats, burrows and more. The software allows users with strong indigenous ecological knowledge but poor literacy and numeracy to input data with the help of sequences of icons. An example is the purpose-built, multilingual Tracks app. Developed under the auspices of the Indigenous Desert Alliance, our rangers use this app widely in their work. The data is easily reported back to traditional owner decision makers and informs their governance in indigenous protected areas and cross-border land management projects, for instance. 
The tracking training program we are developing with our elders and rangers will complement the app. It will help the elders to transfer their tracking skills in a structured way to a cohort of expert trackers who can then more routinely use the knowledge to manage their country and teach their peers.
Thanks to a two-way street in our work – indigenous ecological knowledge informing modern scientific practice and vice versa – we are putting more threatened species on track for survival.