CLC DELEGATES – REGION 3
Northwest
Sharon ANDERSON
Lajamanu
Languages: Warlpiri and English.
Teacher assistant at the Lajamanu school (15 years, with advanced primary school teaching diploma). Member of the Warlpiri Education and Training Trust's advisory committee and director of the Granites Mine Affected Area Corporation.
Registered interpreter and accredited mediator who also works with World Vision in early childhood development. "I like to see strong members to be on the CLC who can speak up and be a strong advocate."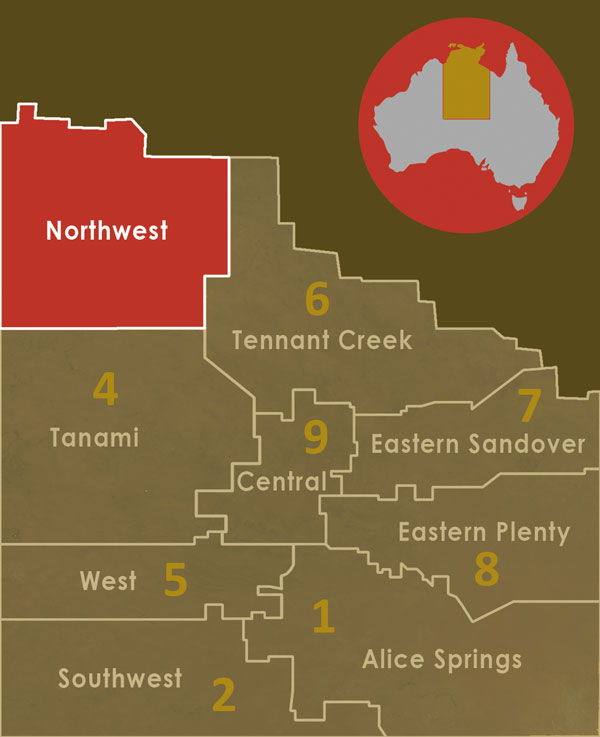 JUANITA ROGERS
Bamboo Springs
Languages: Malgnin, Jaru, Ngaringman and English.
Director of the Mistake Creek Cattle Company. "I live on a small remote community on my country, Bamboo Springs, looking after my family. My mum inspired me to stand for the CLC."
LEAH LEAMAN
Dagaragu outstations
Languages: Gurindji and English.
Remote family support officer with Territory Families.
"The history of Gurindji people and the old people inspired me to stand for CLC. I enjoy painting, fishing and camping."
JUSTIN PADDY
Daguragu outstations
Languages: Gurindji and English.
Builder at the Gurindji Aboriginal Corporation, member of the Karu-Bulangkani store committee and Kalkaringi/Dagaragu community leader.
ALISTAIR JIGILI
Lajamanu
Languages: Warlpiri and English.
Administration officer with the Katherine West Health Board. "My father is my inspiration in many ways, including for the CLC. I hope to carry on with the CLC like my dad."
Vacant
Lajamanu outstations
Details to come
DIANNE KING
Daguragu
Languages: Gurindji and English
Director of the Daguragu Ngumar Aboriginal Corporation since 1989.
"I will try my best to push for the store-office and bigger lights for the oval at my community."
NATASHA GEORGE
Mistake Creek
Languages: Gurindji, Malign and English.
"I used to look after Mistake Creek Station with my partner. We cleaned it up. I am proud to be a CLC delegate for my region. This is my second time on this council. My father used to come for meetings and he inspired me to stand."