The traditional owners of the Yeperenye Nature Park near Alice Springs have launched a walking and cycling trail between Anthwerrke (Emily Gap) and Atherrke (Jessie Gap) that they financed, built and gifted to the public.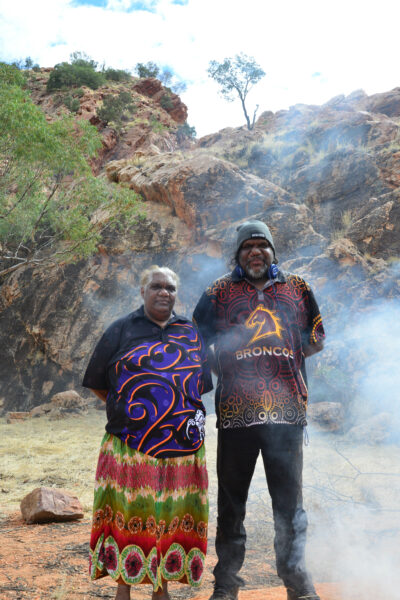 After six years of planning and design and more than six months of construction, around one hundred people gathered at Anthwerrke on July 27 to celebrate the official opening of the trail with a smoking ceremony and a kangaroo tail lunch.
The traditional owners used $365,000 of the rent income they get for the jointly managed national park to fund the trail – the largest sum any Central Australian Aboriginal group has ever invested in public infrastructure.
"It makes me really proud that we did that — putting our money from the government back to the trail here," traditional owner Lynette Ellis said.
"We did this trail for all of us here, for our young kids now and for our future generations."
At a time when the industry needs it most, this new public trail will open up another section of the East MacDonald ranges to tourism and local employment.
"Not many tourists come to Jesse Gap, they are always going to the West Macs, so we thought it would be something good to do to attract them out this way," Ms Ellis said.
"There might be some sort of tour around here with tour guides. We will be doing more projects."
More than 30 Aboriginal workers built the 7.2 kilometre trail by hand, trained in unique sustainable trial construction by local company Tricky Tracks.
"It has been good learning new skills and being able to work hard and share this sacred place with everyone," Mr Grant Wallace, a traditional owner and worker on the track said.
"I'm looking forward to using these skills for future trail work around here."
"This on-the-job, one-on-one training will allow these workers to build and maintain trails across the region," CLC CEO Lesley Turner said.
Cultural supervisors were on site during the construction to ensure important sites were respected and protected.
The trail which follows the contours of the East MacDonnell Ranges and will feature interpretive signage at the trail heads.
The trail features rest stops and is wheelchair accessible in two sections to ensure visitors of all abilities can benefit from increased access to the East Macs.
Mr Turner told the crowd that the trail shows what can be achieved when traditional owners and local stakeholders work together to realise their ambitions to the benefit of all.
"I want to thank the owners of the Yeperenye Nature Park for their generosity, inclusivity and forward-thinking," he said.
"You have left a legacy that's making us all very proud. Of course you were not only thinking of us visitors.
You had your families and young people foremost in your minds and you spread the work around."