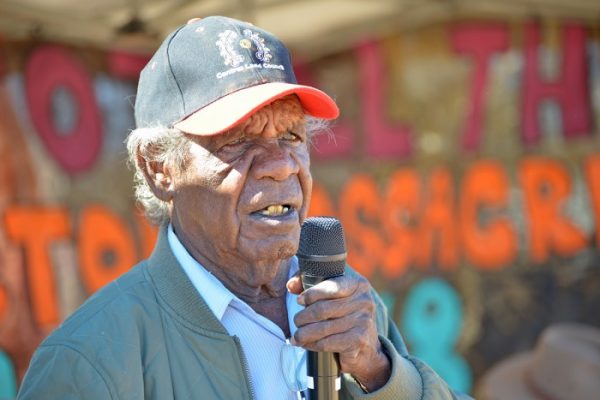 Members and staff of the Central Land Council are mourning the passing of executive member and long-term delegate Jakamarra Nelson and send their deepest condolences to his family and friends.
"Jakamarra was a land rights champion of the first hour and commanded enormous respect," CLC chief executive Joe Martin-Jard said.
"He worked as a Warlpiri interpreter during the early land council meetings and represented his community of Yuendumu on the council since 1988.
"He was a thorough gentleman who walked with ease in two worlds. We will all miss his wisdom and his humour."
Born on Mount Doreen Station, Mr Nelson was six years old when his family was moved to Yuendumu, a welfare ration depot, around 1946.
He was the fifth of nine siblings and his father had four wives.
Even though he only attended the community's school until grade five, he benefited from additional tuition by Baptist missionary Tom Fleming.
"I was lucky," he recalled in the CLC's oral history collection Every Hill Got A Story.
"The whitefella missionary used to teach me after hours … to give me extra education. That's where I managed to pick up my command of English."
He considered himself blessed to have received a two-way education, with regular breaks from settlement life.
"You'd go to church every Sunday, practice our culture every night if possible", he said.
On regular trips to his family's country "we had explained to us how far, how long it would take from A to B to get there – walking that is, cross-country with no map recorded, except in your mind. I think I could still do that – but I can't walk!"
After a mechanic apprenticeship Mr Nelson attended teachers college in Darwin and returned to the Yuendumu school to teach, becoming one of the first Aboriginal teachers in Central Australia.
After five years teaching he joined the Department of Aboriginal Affairs to support the outstation movement as an assistant community advisor.
"He was a champion of Aboriginal-led economic development, serving on the advisory committee of the Aboriginal Benefits Account and as a director of Yuendumu's Yapa-Kurlangu Ngurrara Aboriginal Corporation," Mr Martin-Jard said.
A lifelong advocate for truth-telling, one of Mr Nelson's last public appearances was as MC at the 90th anniversary Coniston Massacre commemoration at Yurkurru in 2018.
Following the last CLC elections, in 2019, he told the many new young delegates why he was not yet ready to retire.
"We are still very strong and still battling with the government and others who are damaging our country. I'm talking about the mining companies. That's why I joined the land council," he said.
Our thoughts are with Mr Nelson's wife Lynette, his children and families.
MEDIA CONTACT: Elke Wiesmann | 0417 877 579 | media@clc.org.au