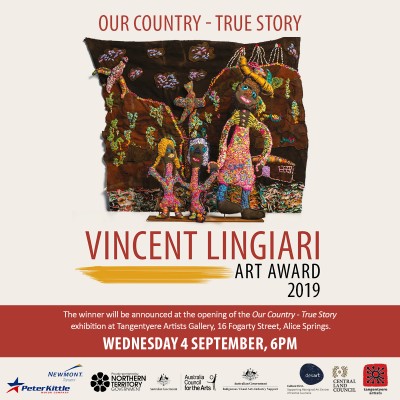 Desart and the Central Land Council have joined forces for the second time to present the Vincent Lingiari Art Award.
Mr Lingiari's granddaughters will be present when the winner of the $15,000 Aboriginal art prize is announced at the exhibition opening at the Tangentyere Artists Gallery in Alice Springs on Wednesday, 4 September, at 6pm.
Just like the inaugural Vincent Lingiari Art Award in 2016, which celebrated 40 years since the passage of the Aboriginal Land Rights Act (ALRA) and 50 years since the Wave Hill Walk Off, this year's award is unashamedly political.
The theme True Story – My Country resonates with the Uluru Statement's call for truth telling.
CLC chair Sammy Wilson, one of the hosts of the 2017 convention that agreed on the statement, said Australia needs to face up to its colonial history before it can move forward as a reconciled nation.
"Anangu believe that if you don't know your tjukurpa – your country's stories, songs and ceremonies – you remain a child, no matter how old you get," Mr Wilson said.
"This is true for people and for nations. You can't grow up without facing the hard things. As a person, you have to keep opening the doors of deeper knowledge. If Australia doesn't open the next door it will be stuck."
"The Uluru Statement – voice, treaty and truth – is the next door and our art is a key to that door," he said.
The 23 entries from across central Australia and beyond reflect the artists' personal truths.
"The works tell stories ranging from the fallout of the Maralinga nuclear tests to reconciliation, housing and road construction," said Desart CEO Philip Watkins.
He congratulated the artists and thanked Glenn Isegar Pilkington for agreeing to judge the award.
"Glenn is a highly respected Nhanda and Nyoongar artist, writer and curator with an impressive practice working alongside our communities," he said.
Aboriginal artists and art centres in the CLC region were eligible to enter works in any medium, and the exhibition features sculptures, ceramics, video installations and paintings.
Desart member centres and individual Aboriginal artists close to the CLC region with strong links to Aboriginal land in the region also entered works.
CLC members again elected the winner of the Delegates' Choice Award and will announce the winner of the $2,000 prize on Wednesday evening.
The CLC and Desart created the Vincent Lingiari Art Award to celebrate the shared history of land rights and the Aboriginal art movement which evolved at the same time, share the same roots and have both empowered Aboriginal people.
Marlene Rubuntja, from Alice Springs, won the inaugural prize for her sculpture My future is in my hands.
The Vincent Lingiari Art Award exhibition will be open until the 18 October and has been generously funded by the Peter Kittle Motor Company and Newmont Goldcorp.
Media contacts: Philip Watkins, eo@desart.com.au, 0403 193 266 and Elke Wiesmann, elke.wiesmann@clc.org.au, 0417 877 579.