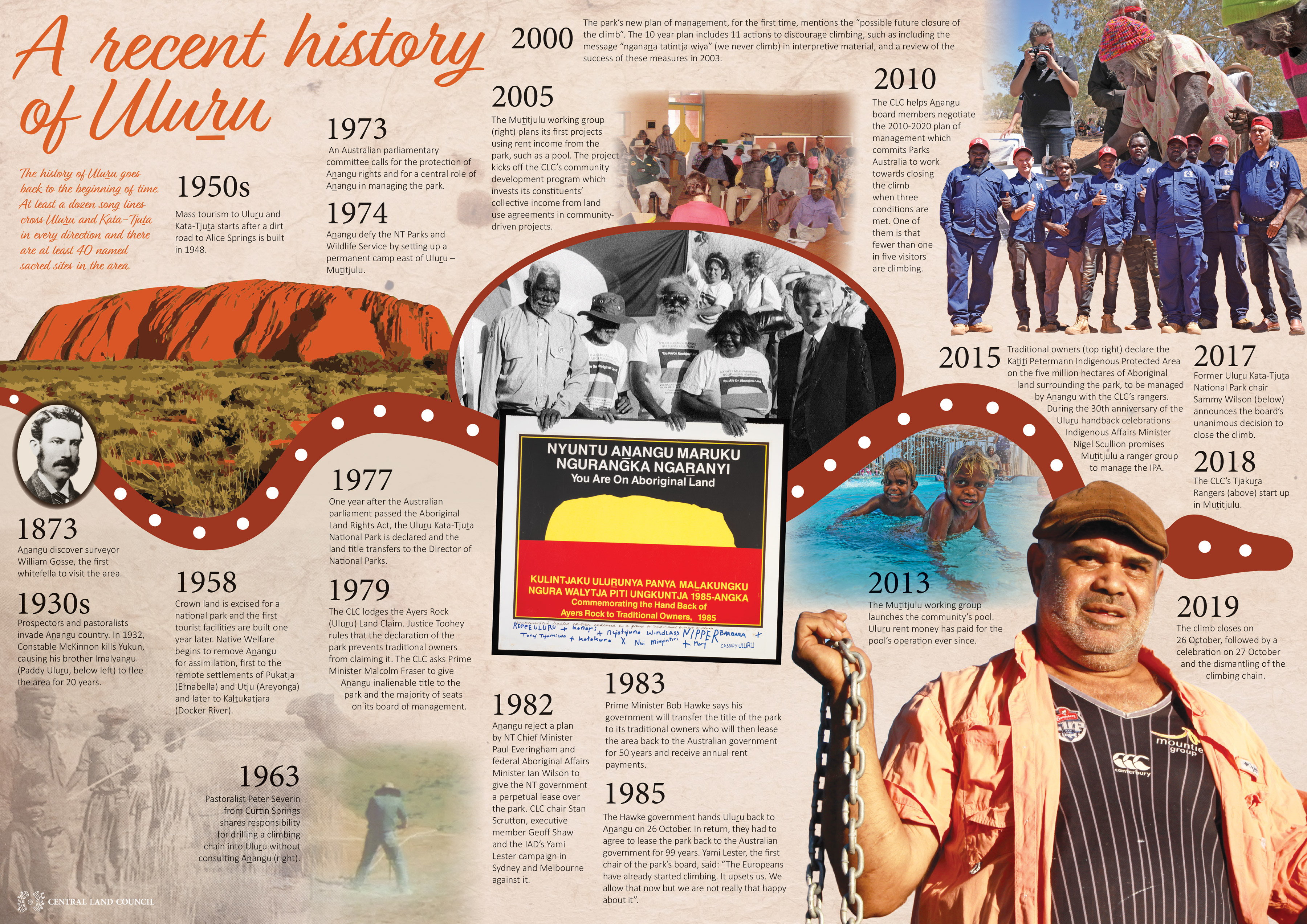 The Central Land Council will join the Anangu [AR–nung-u] traditional owners of the Uluru-Kata Tjuta National Park as they mark with inma [ceremonies] the closure of the Uluru climb.
Hundreds of Anangu from remote communities in the cross-border region of the Northern Territory, South Australia and Western Australia will gather near Uluru at sunset on Sunday, 27 October, to celebrate the climbing chain coming off the Rock at last.
"We will be dancing because enough people are finally accepting and respecting our point of view and we can all be proud of this," said traditional owner and CLC chair Sammy Wilson.
"We want the land council members by our side as we celebrate because they have always backed us. Their past and present leaders have helped us get our land back in 1985 and supported us all the way to close the climb."
"Now we can start a new chapter in the history of our country and welcome the world to experience it through our eyes," he said.
Mr Wilson has been taking Australian and international tourists to his family's homeland near Uluru since 2016 and has seen the number of visitors looking for authentic experiences increase.
He is not the only traditional owner working in tourism. Anangu have also been working with the CLC, government and industry to plan alternative visitor attractions.
Mr Wilson says the traditional owners want more support to develop and operate tourism experiences that not only make people open their wallets but their hearts and minds as well.
"You never know whether the little boy or the little girl you are taking on your tour and teaching about your culture may grow up to be the leader of the country one day," Mr Wilson said.
CLC CEO Joe Martin-Jard said the closure of the climb is one of the rare occasions since the handback and subsequent leaseback of the park to the federal government that the traditional owners are asserting their sovereignty and cultural authority.
"For more than three decades, Anangu went along with joint management even though there were limited benefits and they put up with pressure to let tourists climb over their sacred sites," Mr Martin-Jard said.
"We look forward to a brighter future as we celebrate an act of self-determination that is every bit as momentous as their decision in 2005 to use their share of the park's gate money to drive their own community development priorities."
Since then, Anangu have invested more than $14 million of their gate money in more than 100 community benefit projects such as pools, stores and churches, as well as education, health and culture initiatives in the communities where their families live.
"Their decision to use their collective income to strengthen their communities is arguably the best thing for Anangu to have come out of the handback so far," he said.