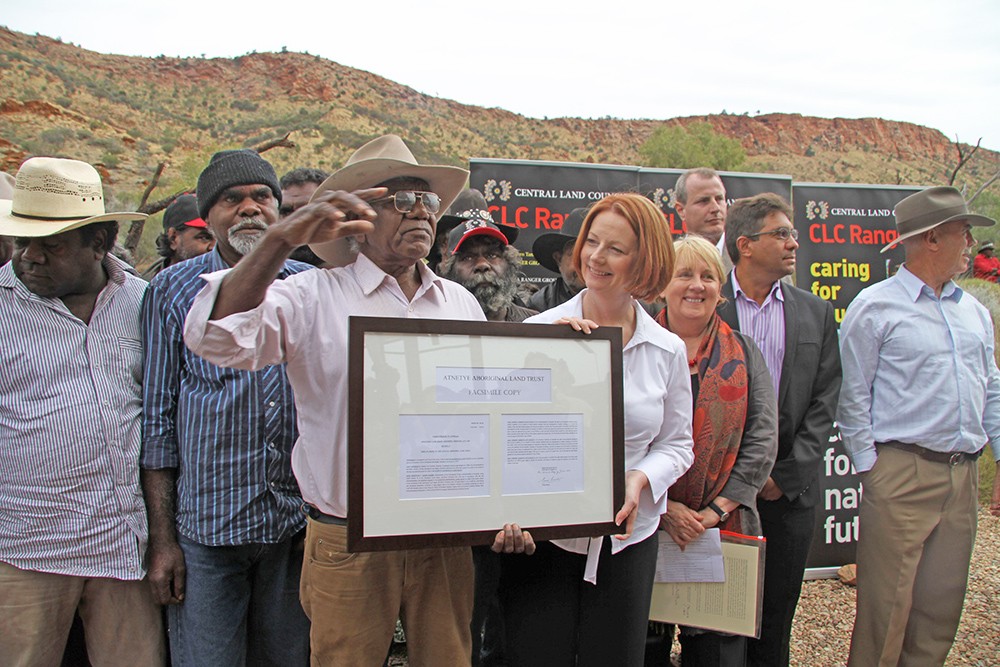 Eastern Arrernte traditional owners will receive Aboriginal freehold title to a missing piece of the vast Simpson Desert land claim on Monday, June 6.
The grant concludes one of the largest and longest running land claims in the CLC region, 36 years after it was first lodged.
The title to the 110,000 hectare area, also known as NT Portion 4208, will be granted to the Atnetye (pronounced at-NIT-cha) Aboriginal Land Trust in a handback ceremony at Keringke Arts in Santa Teresa community at 11.30 am.
Indigenous Affairs Minister Nigel Scullion and the Federal Member for Lingiari Warren Snowdon will attend the ceremony.
Many of the traditional owners of the area, from the Uleperte (pronounced oo-la-PUR-ta) and Uleralkwe (pronounced oo-la-RALK-wa) estate groups, live at Santa Teresa, Alice Springs and along the Plenty Highway.
Former Aboriginal Land Commissioner Howard Olney gave his report on the Simpson Desert Land Claim Stage IV in 2009.
Although NT Portion 4208 had not previously been recommended for grant he suggested that, given his findings of traditional ownership of the Uleperte estate and the subsequent location of an important sacred site, that the Australian government consider granting that land to the traditional owners.
It was not included in the title to 18,000 square kilometres of the Simpson Desert returned by former Prime Minister Julia Gillard in 2011.
Following representations from the CLC, Senator Scullion advised in May 2014 that NT Portion 4208 would be included in a schedule to the Aboriginal Land Rights Act and handed back to the traditional owners.
"There's plenty of sacred sites there and we still have plenty of ceremony and pass the knowledge on," the late former CLC chair Lindsay Bookie said during the 2011 Simpson Desert handback ceremony.
"Our culture has stayed really strong and we know all the places and all the stories and songs."
Mr Bookie was one of the claimants who gave evidence about their cultural and spiritual links to country in hearings held in the Simpson Desert but not a traditional owner of the land to be handed back on Monday.
He said even though the Simpson Desert was remote, people were still strongly connected to their country.
"The traditional owners already look after that country but now it's ours we can control visitors' behaviour a bit better because they will have to have a permit.
We want them to keep our country clean and not chuck their rubbish around like some travellers have done," Mr Bookie said.
"They've got to look after the country, we've all got to do it."