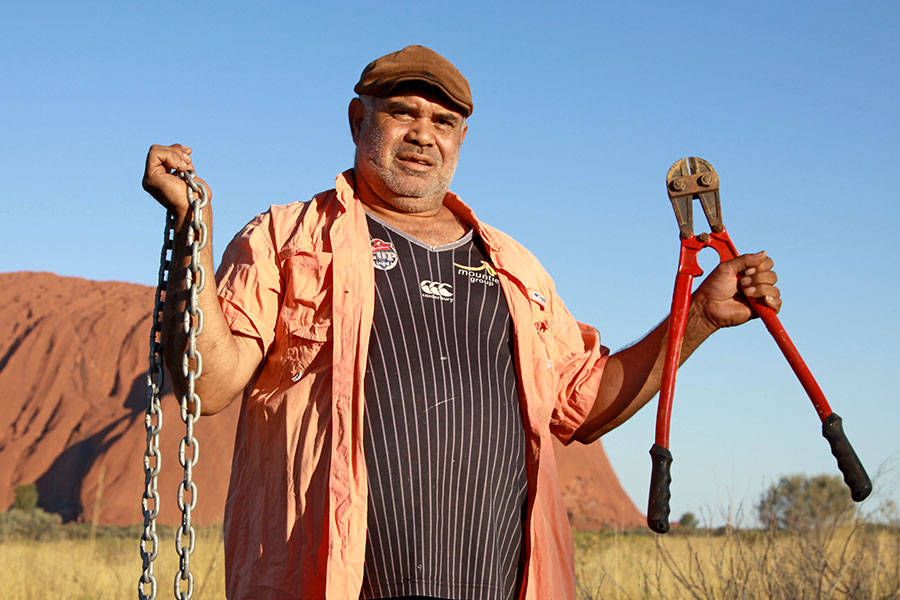 The Central Land Council welcomes the long overdue decision by the Uluru Kata Tjuta National Park board of management to close the climb to the summit of Uluru for good.
"The CLC congratulates the board on righting a historic wrong," said CLC director David Ross.
"This decision has been a very long time coming and our thoughts are with the elders who have longed for this day but are no longer with us to celebrate it."
After agonising about people climbing the sacred site since the 1930s, its Anangu traditional owners recently reaffirmed their long-standing desire to close the climb during consultations by the CLC.
"Some people, in tourism and government for example, might have been saying we need to keep it open but it's not their law that lies in this land," said CLC executive member Sammy Wilson, who also chairs the jointly managed park's board and runs a small tourism business.
"It is an extremely important place, not a playground or theme park like Disneyland. We want you to come, hear us and learn. We've been thinking about this for a very long time," Mr Wilson said.
Mr Wilson takes visitors to his family's homeland near the park to watch the sunset and they often ask him why Anangu don't close the climb.
"Why this decision wasn't made decades ago is a fair question," Mr Ross said.
"Anangu have genuinely struggled to accommodate many powerful competing interests and have faced massive pressure."
Mr Wilson said the traditional owners have been in a difficult position and are glad their wishes have prevailed at last.
"Over the years Anangu have felt a sense of intimidation, as if someone is holding a gun to our heads to keep it open. Please don't hold us to ransom. This decision is for both Anangu and non-Anangu to feel proud about," he said.
Mr Ross said while Anangu board members agreed to delay the date of the climb's actual closure for another two years the balance of power is slowly shifting.
"Today's decision to close the climb was unthinkable only 10 years ago."
Mr Ross said if fledgling Anangu tourism plans, especially in the vast Indigenous Protected Area surrounding the national park, receive the assistance they need to get off the ground nobody will miss the climb.
"There is so much else besides that in the culture here," said Mr Wilson "If we have the right support to take tourists outside [the park] it will benefit everyone.
We have a lot to offer in this country. So instead of tourists feeling disappointed … they can experience the homelands with Anangu and really enjoy the fact that they learnt so much more about culture."
Read Sammy Wilson's full speech here