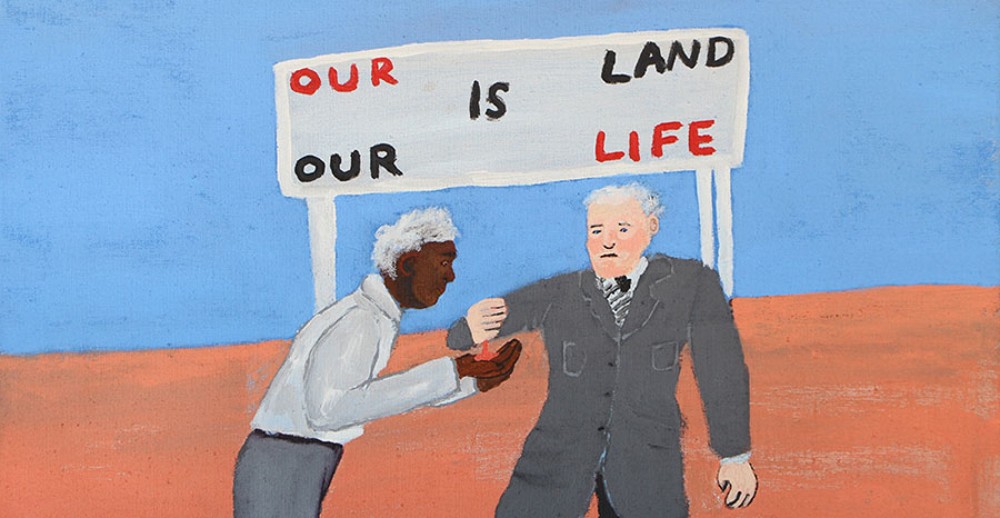 South Australian artist David Frank has won the Central Land Council Delegates' Choice Award for his painting Our Future at the CLC meeting at Kalkaringi today, ahead of a historic joint meeting of Northern Territory land councils tomorrow and on Thursday.
Mr Frank is a ngangkari (traditional healer) and former South Australian Police employee who has worked on cattle stations before taking up painting at Indulkana community's Iwantja Arts Centre.
The $2,000 prize he won today is part of the Vincent Lingiari Art Award which marks 40 years of land rights and 50 years since the Wave Hill Walk Off that kicked off the national campaign for Aboriginal land rights in 1966.
Our Future depicts the famous scene of Gough Whitlam pouring red dirt into Vincent Lingiari's palm.
"We, too have been stockmen, many of us," Mr Frank said. "When we were young we worked hard on cattle stations for rations. Lingiari helped to start the land rights story."
His painting was one of 23 collaborative works and individual creations in a range of media shortlisted by judges Brenda Croft and Stephen Gilchrist.
Aboriginal artists from Central Australia submitted one work for each of the 40 years of the Aboriginal Land Rights Act (NT) 1976, the high water mark of Aboriginal rights in this country.
"Mr Frank's painting captured the hearts and minds of our elected members," said CLC chair Francis Kelly, who announced the Delegates Choice Award winner with Mr Lingiari's son, Timmy Vincent.
"Now we have to be a little bit patient to find out who will win the main $15,000 Vincent Lingiari Art Award prize."
Curator Hetti Perkins will choose the overall winner on 7th September at Tangentyere Artists Gallery in Alice Springs, at the opening of the Our Land Our Life Our Future exhibition, a collaboration between the CLC and Desart.
"The exhibition is an inspired way to celebrate 40 years of land rights," said Ms Perkins, the eldest daughter of the CLC's first chair, Charlie Perkins.
"Our artists express the enduring bond between community, culture and country that is central to our identity as the First Peoples of this land.
In bringing together the work of artists from across Central Australia, CLC and Desart will emphatically show that this is Aboriginal land – always was, always will be."
"We chose the Tangentyere Artists Gallery for the exhibition to honour the important role town campers played in the early days of land rights," said CLC director David Ross.
Our Land Our Life Our Future will run for a month and is an opportunity for Aboriginal workers from Desart member art centres to gain on the job training and experience in all aspects of curatorial practice.
Financial support from the Peter Kittle Motor Company, Newmont Australia and the Copyright Agency Cultural Fund made the land rights anniversary art award and the exhibition possible.
For images go to https://goo.gl/photos/Ymr2oNDpXd5U4Lx46