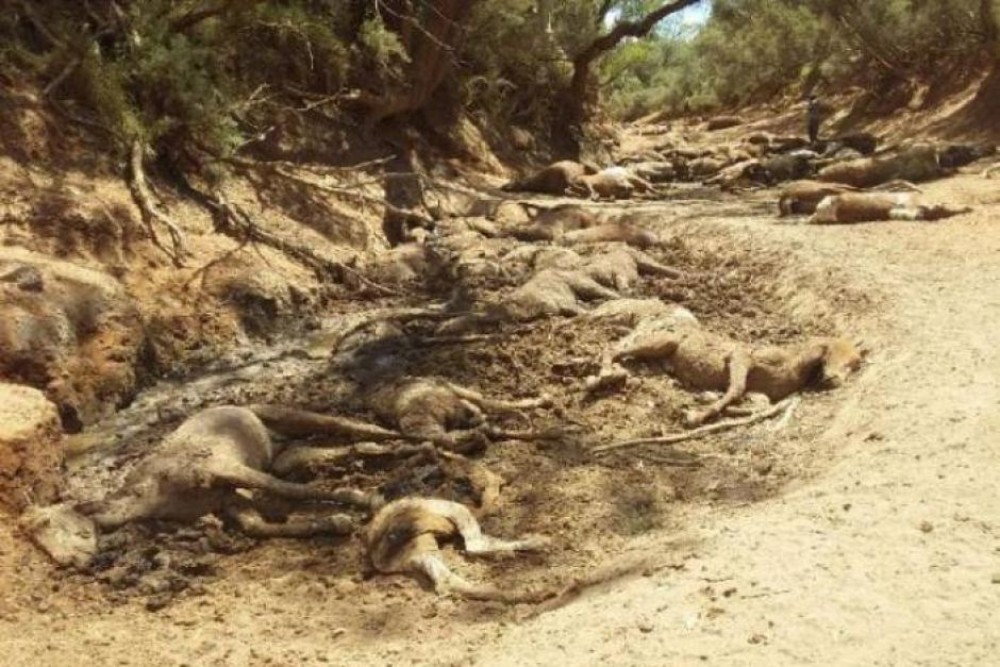 The Central Land Council last week culled more than 50 feral horses at Ltyentye Apurte (Santa Teresa) after its Aboriginal ranger team found 90 dead and dying brumbies at Apwerte Uyerreme [pronounced POUR-da YOU-rum] waterhole near the community.
It is also consulting with another remote community about an emergency cull.
Horses and other feral animals are dying of thirst and hunger because many reliable water sources, such as Apwerte Uyerreme, have dried up in the current heatwave and areas overpopulated by feral animals suffer erosion and vegetation loss.
As horse carcasses foul water holes that native animals depend on these, too, die.
The CLC and its constituents are very concerned about both feral and native animals in the current heat wave.
On Monday, CLC staff spoke with residents and traditional owners of another remote community where feral horses, donkeys and camels are dying of thirst.
Around 120 animals there are watering from a trough near the community and are in too poor a condition for mustering and transport.
The CLC received consent to undertake an aerial cull from those it consulted and scheduled an emergency cull for Friday, 25 January.
However, it has since learned that some residents are opposed to this.
It will therefore hold a community meeting today where government animal welfare officers will also be present.
"Before a cull it is important to get the informed consent of the traditional owners of the Aboriginal land trusts we support," said CLC director David Ross.
"However in emergencies, such as last week in Ltyentye Apurte, we will go ahead without consent if necessary," he said.
"With climate change well and truly upon us, we expect these emergencies to occur with increasing frequency and nobody is truly prepared and resourced to respond to them."
Mr Ross said the CLC is helping traditional owners to prevent them by developing management plans with the four large Indigenous protected areas (IPAs) in its region.
"Aboriginal land trusts, unlike IPAs, lack the resources to develop such plans," he said.
"That's why we are pleased that the NT government has committed funds for us to develop 'Healthy Country' management plans over the next two years in areas across multiple land tenures, plans that include ranger groups operating in the Tennant Creek, Ti Tree, Ntaria (Hermannsburg) and Ltyentye Apurte regions."
The plans will allow rangers and traditional owners to keep feral horse, donkey and camel numbers down and allow traditional owners to muster and sell healthy animals where they can find a market.
Next Wednesday, 30 January, the CLC will hold a meeting at Ltyentye Apurte to discuss last week's cull, how to assist the Santa Teresa Aboriginal Land Trust to dispose of the carcasses and how to avoid mass animal deaths as the climate gets hotter.