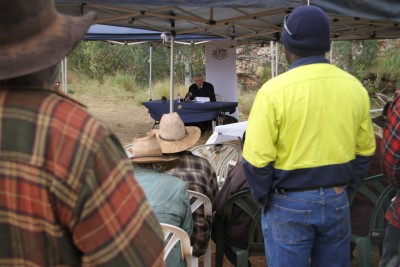 One of the most significant sacred sites for Warumungu, Kaytetye, Warlpiri and Alyawarr people in the Tennant Creek region is being handed back to its traditional owners, 28 years after they first made their claim for title to it.
The Minister for Families, Housing, Community Services and Indigenous Affairs, Jenny Macklin will hand title to traditional owners of Karlu Karlu (The Devils Marbles) at a ceremony at the site, 100 km south of Tennant Creek today (Tuesday 28 October 2008).
The Minister will also hand back title to the Alyawarr, Kaytetye, Warumungu and Wakaya traditional owners of the Davenport Range National Park The Ayleparrarntenhe Aboriginal Land Trust will hold title to 17.75 square kilometers of land at Karlu Karlu and the Erlterlapentye Aboriginal Land Trust will hold title to 1119 square kilometers of the proposed Davenport Murchison Range National Park . The neighbouring Anurrete Aboriginal Land Trust will also lease 156 square kilometers of its land to the national park.
CLC Director David Ross said the hand backs will be an emotional event for the traditional owners of the land.
"In the case of Karlu Karlu, these people have fought for years to protect this place against developments which would have seen road detours and a railway line cut through the site," he said.
"Many people have passed away: one custodian lost all of his brothers over the years but continued to fight for their site.
"Similarly the proposed Davenport Range National Park has had a painful past, especially in its establishment when sites were bulldozed and desecrated and traditional owners completely disregarded during the clearing of the park boundaries.
"I congratulate all of them for their courage, persistence and resilience – it's been a tough, and often a very sad road for all of them and I sincerely hope that these hand backs will provide a sense of peace and relief. I also look forward to the joint management arrangements that follow giving them the level of recognition and involvement in the management of these areas that they deserve for many years to come, " Mr Ross said.
The hand backs will benefit about 300 Aboriginal people from surrounding communities. The parks are being handed back as a result of settlement of long standing land claims over some national parks under the Parks and Reserves (Framework for the Future) Act. The Land Trusts will immediately sign 99 year leases with the Northern Territory Government which will allow these parks to continue as national parks with public access under joint management arrangements.