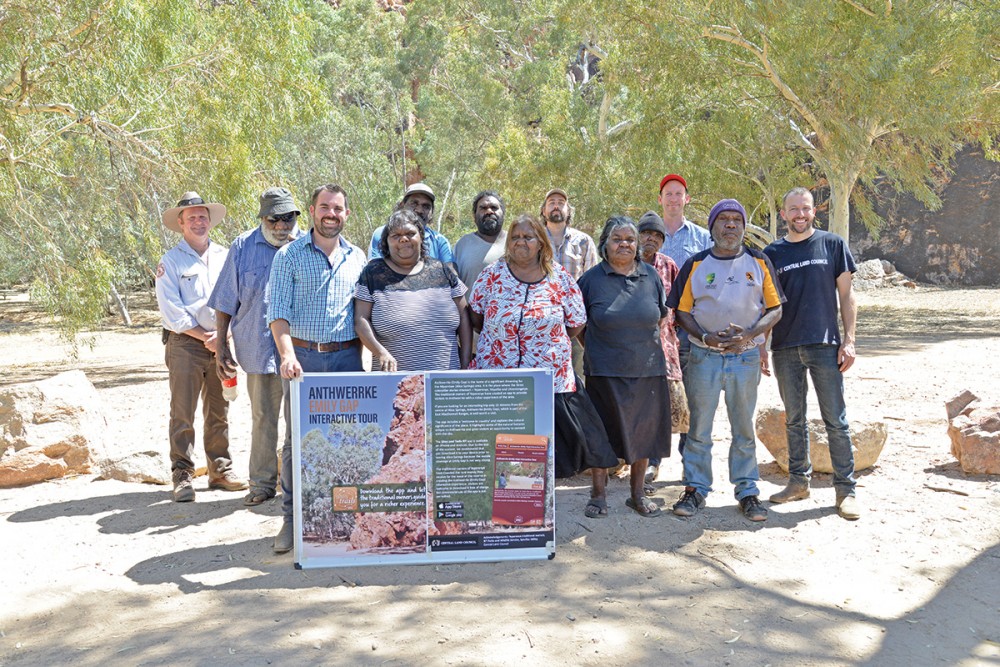 Traditional owners of Anthwerrke (Emily Gap) have invested their rent income from the Yeperenye/Emily and Jessie Gaps Nature Park in an interactive visitor experience at the sacred site near Alice Springs.
They will launch the interactive tour with CLC chair Francis Kelly, the Member for Namatjira Chansey Paech and guests at Anthwerrke on 26 September at 10:30am.
Anthwerrke [UN-door-kwa] is the home of a significant dreaming, the place where the three caterpillar songlines Yeperenye [Yep-ah-RIN-ya], Ntyarlke [N-CHAYL-ka] and Utnerrengatye [OOT-ner-ung-utch] intersect.
The Anthwerrke interactive tour app features the traditional owners welcoming all to country and talking about the significance of the site.
"Without a knowledgeable guide by your side you may be able to appreciate the beauty of Anthwerrke but you would miss out on its stories and leave this special place none the wiser," said Mr Paech.
"This interactive tour is like having a friend walk through the site with you and explain the hidden meaning of its natural features, its plants, animals and cultural history.
No interpretive sign can pass on this knowledge the way the traditional owners can."
"It's a special place for Arrernte people from this area", said Lynette Ellis, a traditional owner and working group member.
"You've got a lot of tourists going to the West Macs but not that many come east.
Those that do come to Emily Gap don't have much information. Now they've got us telling them the stories about this place."
The app-based experience, a project driven by the traditional owners and supported by the CLC, was four years in the making and cost some $34,000 to develop and maintain.
It is worth every cent, according to Ms Ellis.
"With more people coming to Emily Gap, later there might be more opportunities for cultural experiences with the traditional owners, or they could work on the park as rangers or tour guides," she said.
The working group's next project is a walking and bicycle track between Emily and Jessie Gaps.
"Our NT parks rent money community development program is one of the most positive outcomes from the joint management of the 16 parks and reserves in our region," said CLC director David Ross.
"In 2010 CLC members decided to use 100 per cent of this income stream for community development and last financial year traditional owners invested more than a million dollars of their park rent income in projects they drive."
Visitors can download the app free of charge from http://sitesandtrails.com.au/ or the app store by searching for Sites and Trails NT. Once downloaded they can search for the Anthwerrke Interactive Experience or navigate there via the Locations list.