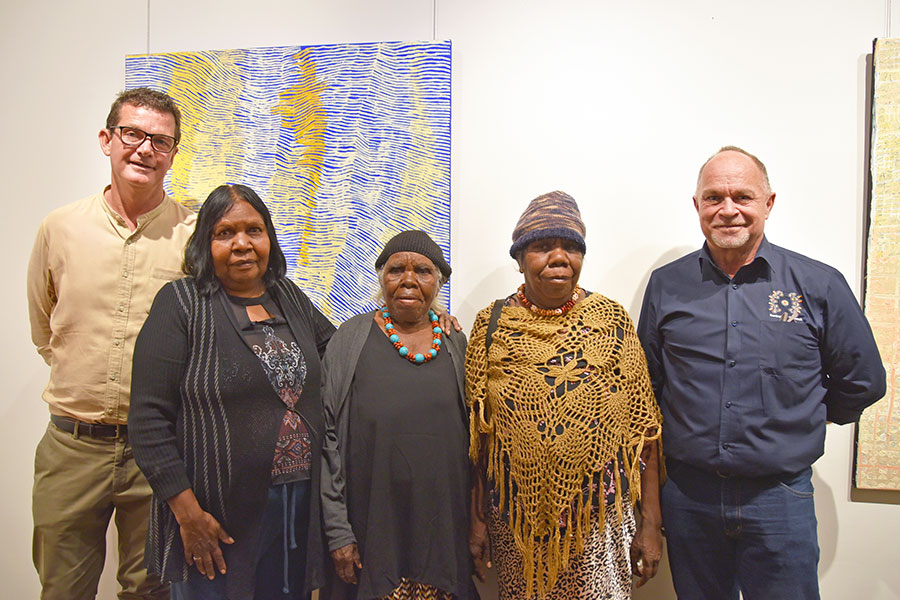 Northern Territory artist and senior law woman Eunice Napanangka Jack has won the $15,000 Vincent Lingiari Art Award prize for her painting Kuruyultu.
The widely acclaimed artist from the remote community of Ikuntji (Haasts Bluff), approximately three hours' drive west of Alice Springs, doesn't only paint her country – she also wears it on her body.
"I have a scar on my back from it," Ms Jack said. "It happened before I was born."
Ms Jack said the night before she was born, approximately 80 years ago, her mother's father ate a wallaby he had speared at Kuruyultu, a site near the remote community of Tjukurla in Western Australia.
"At the same time my heavily pregnant mother could feel me moving inside her.
"Only my father knows all the stories for that country, and he painted them too. I know the story of the wallaby which left me with a birthmark. That's what I paint," she said.
This year's award judge Glenn Iseger-Pilkington said Ms Jack's work "speaks to the story of her life, her birth and her cultural inheritance, which informs all that she paints, all that's she is, and where she belongs".
"I was taken aback with the sense of movement, balance and energy held within a modest sized canvas rendered in blues, oranges, varying shades of golden creams and pale yellows. It is a painting which is quiet and reflective yet simultaneously bold and energetic."
Ms Jack has held 11 solo exhibitions and has been a finalist in many art prestigious awards, including several times in the Telstra National Aboriginal and Torres Strait Islander Art Award, but this is only her second art prize.
Desart and the Central Land Council joined forces for only the second time to present the Vincent Lingiari Art Award.
Mr Lingiari's granddaughters were present when Ms Jack was named the winner at the Tangentyere Artists Gallery in Alice Springs on Wednesday night.
The CLC's deputy chair Barbara Shaw also announced the winner of the CLC Delegates' Choice Award on the night.
"At their council meeting in August at Ross River, our delegates picked a small painting by David Frank which celebrates a successful handback of land near Ernabella in the early 80s," Ms Shaw said.
"It's the second time they voted for one of Mr Frank's works. They really like a good handback."
Mr Frank, from Iwantja Arts, also won the first CLC Delegates' Choice Award in 2016.
The inaugural Vincent Lingiari Art Award celebrated 40 years since the passage of the Aboriginal Land Rights Act (ALRA) and 50 years since the Wave Hill Walk Off.
The 23 entries from across central Australia and beyond in this year's award reflect the artists' personal truths.
They tell stories ranging from the fallout of the Maralinga nuclear tests to reconciliation, housing and road construction in media such as sculpture, ceramic, video installation and painting.
Aboriginal artists and art centres in the CLC region as well as Desart member centres and individual Aboriginal artists close to the CLC region with strong links to Aboriginal land in the region were eligible to enter in the award.
The Vincent Lingiari Art Award exhibition runs until 18th October at the Tangentyere Artists Gallery at 16 Fogarty Street in Alice Springs.
It has been generously funded by the Peter Kittle Motor Company and Newmont Goldcorp.
Media contacts: Philip Watkins, eo@desart.com.au, 0403 193 266 and Elke Wiesmann, elke.wiesmann@clc.org.au, 0417 877 579.