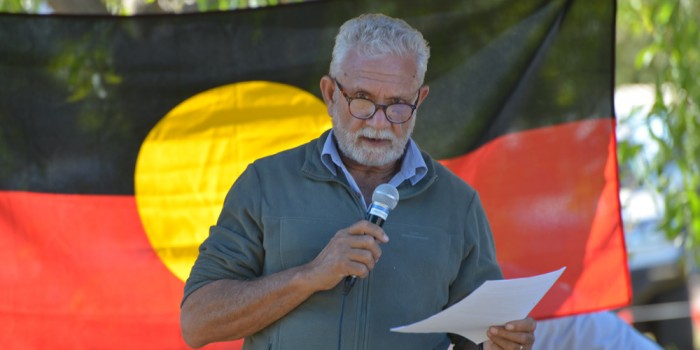 David Ross, AM richly deserves the honour bestowed on him today.
"From leaving his mark on the national Aboriginal land rights struggle to guiding the CLC's successful ranger and community development programs, Mr Ross is an outstanding leader who has done so much to advance the rights and improve the lives of Aboriginal people in Central Australia," CLC chief executive Joe Martin-Jard said.
"Today's announcement that he has been awarded membership of the general division of the Order of Australia for serving his community will be warmly welcomed by our constituents, elected members and staff, and all the more so because he has never sought the limelight.
"He is a famously humble leader who has always focussed on serving his 'bosses' out bush and getting the job done. His integrity is legendary."
Mr Ross was part of the Aboriginal leadership group that advised former Prime Minister Paul Keating about the Native Title Act.
"He has achieved the rare distinction of being both highly respected by the nation's Aboriginal leaders and all spheres of government," said Mr Martin-Jard.
Mr Ross joined the CLC as a field officer in 1979 and became its director in 1989.
Apart from a few years in the late 1990s, when he was a full-time commissioner with the Aboriginal and Torres Strait Islander Commission and the inaugural executive chair of the Indigenous Land Corporation, he led the CLC until his retirement last year.
He guided its transition from an agency that won land claims for a culturally diverse constituency to an organisation with growing land management and community development programs that provide employment for Aboriginal people on their country and promote investment.
In 2005, Mr Ross became an early champion the Warlpiri Education and Training Trust (WETT), an initiative of a group of female educators from remote communities in the Tanami Desert that has so far invested more than $34 million of gold mining royalties in almost 200 projects for life-long education and training.
"This award-winning bicultural and bilingual program kicked off our broader, cutting edge community development program through which our constituents have invested almost $117 million in projects they control," Mr Martin-Jard said.
"It has inspired a similar program at the Northern Land Council, and other Aboriginal communities, and organisations around Australia look to it as an example of how they can drive positive change through their income from land use agreements."
"That the program has grown from strength to strength is due to the extraordinary personal commitment of Mr Ross over the past decade to Aboriginal employment and control.
"The same can be said about our Aboriginal ranger program which started in 2000 and employs a hundred men and women in remote communities and which is close to his heart."
Also under Mr Ross' leadership, the CLC recently negotiated agreements for two pipeline projects that have together involved investment of more than $1 billion.
It negotiated with multiple groups of traditional owners and yet delivered the projects on time and on budget.
The first of these pipelines supplies gas to the eastern states, thereby addressing the acute shortage, and the second lowers carbon emissions by replacing diesel with gas at Newmont Goldcorp's mine in the Tanami.
MEDIA CONTACT: Elke Wiesmann | 0417 877 579| media@clc.org.au