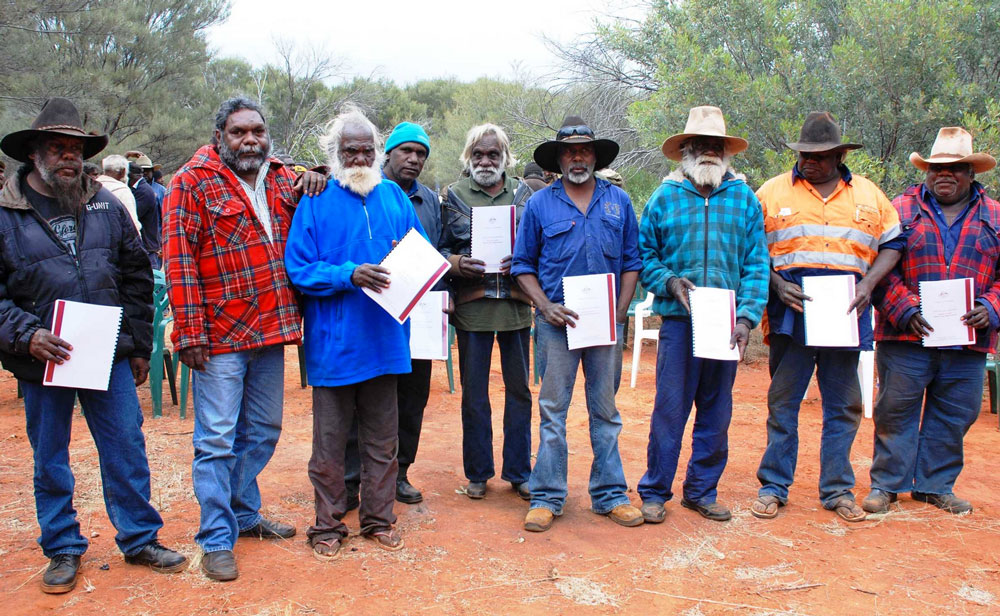 The traditional owners of the Neutral Junction area hope that the Federal Court's decision to recognise their native title rights over their country will help them to protect a critical cluster of sacred sites.
In July 2011 the Federal Court visited Arnerre, an outstation within the Neutral Junction pastoral lease, 300 kilometres north of Alice Springs in the Northern Territory, to hand down its determination by consent of the parties recognising the native title rights of traditional owners .
The decision is an important step in the traditional owners' longstanding battle to protect their country and will ensure their ability to negotiate over future uses of the land, particularly over any mining activity.
As is normally the case in the Northern Territory, the recognition of native title provides few additional rights to traditional owners other than those already provided for under the Pastoral Lands Act, including the right of access, hunting, and the right to reside and build shelters.
But at Neutral Junction, where a known gold reserve exists in the same area as a critically important complex of sacred sites, it was the threat of mining that prompted traditional owners to seek recognition of their native title rights, and to ensure their right to negotiate over any future exploration and mining.
Traditional owners have historically resisted any exploration in this region, and any form of ground disturbance has caused a high level of anxiety to senior people.
In the early 1990s the Central Land Council asked the Northern Territory minister responsible for mines to declare a Reservation from Occupancy under the Mining Act over a portion of the Crawford and Osborne Ranges in order to protect sacred sites. Unfortunately the minister refused.
For some years the area has been protected by agreements between the CLC and exploration and mining companies not to interfere with the sites, and the traditional owners hope that recognition of their native title rights will strengthen this protection in future.
The application area comprises 1664 square kilometres of the northwestern section of the Neutral Junction Pastoral Lease and includes the parallel Crawford and Osborne Ranges, the floodout of the Taylor Creek and flat spinifex plains.
The estate is located centrally within the territory of the Kaytetye people, who have maintained their customs and laws remarkably well considering the changes that have been brought since their first encounter with Europeans 149 years ago, when John McDouall Stuart camped at Taylor Creek in 1862.