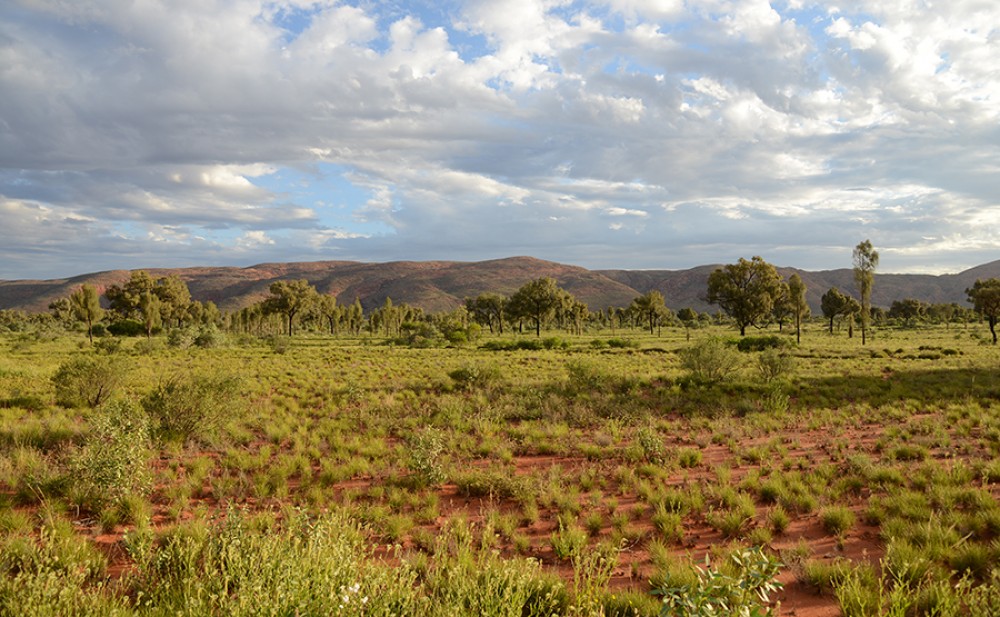 Mutitjulu elders are today launching a new Central Land Council ranger group to manage the vast Katiti Petermann Indigenous Protected Area surrounding the Uluru Kata Tjuta National Park.
Central Land Council chair Francis Kelly says Mutitjulu's Tjakura rangers – the CLC's 12th ranger group – are taking their name from the Pitjantjatjara/Yangkunytjatjara word for the threatened great desert skink.
"They are proud to wear the logo with the tjakura on their uniforms because that's what our rangers are so good at: looking after endangered plants and animals the proper way, under the guidance of their elders.
They don't just keep country healthy, they also keep people's culture and knowledge of country strong," Mr Kelly says.
The Tjakura rangers' logo is based on a concept design by senior Mutitjulu artist Malya Teamay, who will unveil it at the launch, following a ceremony at 10.30 at the community's ranger office.
The new group will share the protection of the five million hectare IPA with the CLC's Kaltukatjara rangers from the remote border community of Docker River, a rough three hour drive west of Mutitjulu.
"I'm so happy my team of six will finally be joined by seven new colleagues from Muti," said Kaltukatjara ranger co-ordinator Benji Kenny.
"We really needed these reinforcements because it's been a daunting job to look after an IPA of more than 50,000 square kilometres, an area larger than Denmark or Switzerland, on our own.
"By comparison, the Uluru Kata Tjuta National Park inside the IPA covers only just over 1,300 square kilometres and employs more than a dozen non-Aboriginal rangers, plus another dozen non-ranger staff."
The IPA is an international hot spot for mammal extinctions, with 18 mammals vanishing from the area since European settlement.
Anangu [pronounced AR-nangu] traditional owners still remember animals such as kantilypa (pig-footed bandicoot), tawalpa (crescent nail-tailed wallaby), lesser bilby, and walilya (desert bandicoot) which died out during the lives of today's elders.
Feral cats and foxes and changes in traditional fire regimes after Anangu were moved into settlements drive these extinctions.
The Tjakura rangers will help to look after more than 22 surviving native mammal species, 88 reptile species and 147 bird species found on the IPA, including threatened species such as the murtja (brush-tailed mulgara), waru (black-footed rock-wallaby) and the princess parrot.
"We use traditional knowledge and skills such as cat tracking and cool season patch burning and combine them with modern tools such as aerial incendiary machines and digital tracking apps to manage these treats," Mr Kenny said.
"Having two ranger groups look after the IPA means that we'll be able to double our efforts and involve more community members on a casual basis, for example to hire more locals to do controlled burns during the upcoming fire season."
Unique to Australia, IPAs are areas of Aboriginal land traditional owners voluntarily declare and manage as part of Australia's National Reserve System funded by the federal environment department.
The federal government's IPA and Working on Country programs provide scarce opportunities for ongoing paid employment for Aboriginal people in remote communities and are highly sought after.
The skills CLC rangers gain through structured accredited training boost their employment prospects in other sectors as well as improve their mental health and wellbeing.
The federal government has delivered on the promise to fund the group, which Indigenous Affairs Minister Nigel Scullion made in 2015, shortly after Anangu traditional owners declared the country around Uluru Australia's 70th IPA.