The Ltyentye Apurte Rangers have removed swallow nests from the paintings of their most significant rock art site – with a little help from their friends from Kaltukatjara (Docker River).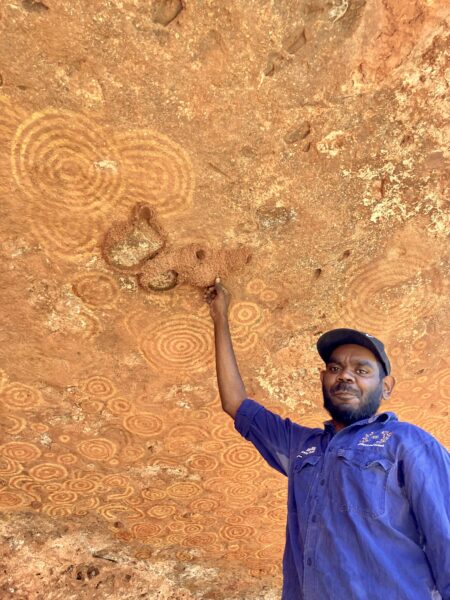 Traditional owner Damien Ryder led the convoy of two ranger groups on a trip to Utyetye, a large open cave at the bottom of a cliff on the Santa Theresa Aboriginal Land Trust, to watch them restore the paintings covering the cave roof to their former glory.

He stood at the edge of a cliff that turns into a waterfall after heavy rains, and creates a curtain across the cave opening while topping up the bright green water below.

"The old people used to camp here," Mr Ryder said, gesturing down into the narrow valley beyond the cave that the rangers have recently cleared of reeds.

Bernard Bell, from Kaltukatjara, clambered down the steep rock face with a cardboard box under his arm, ready to show his colleagues what he learnt at Walka, a cave full of rock art his group is protecting back home.

"I'm teaching them how to look after these paintings and clean off the mud nests," he said as he inspected the mesmerising design of concentric circles in yellow and orange ochre that covers almost the entire roof of the cave.

Then he pulled a wooden stick and a small hammer out of the box and started to carefully chip away at one of the dozens of mud nests stuck to the ochre.

When only a narrow rim of mud was left he pulled out a spray bottle filled with a clear fluid.

"We spray it with methylated spirits to make the mud soft," he explained.
The moisture revealed even more paintings underneath the wet mud as he gently swept away the last of it with a soft paint brush.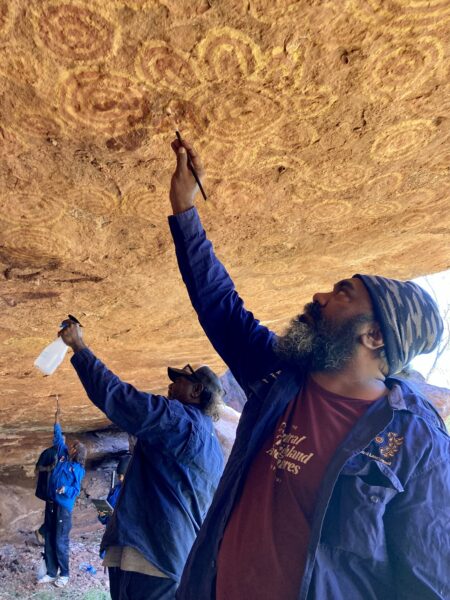 "We use the brush to clean off the rest of the mud, spray it again, brush again, until it looks nice and clean. It works well. It never takes off the rock painting."

"It's been here for a long time and that's why we need to look after it."
Farron Gorey, from Ltyentye Apurte, got the hang of it right away.
"It's a bit different from other ranger work," he said.

His colleague Anton McMillan already had some practice, having learned the technique during a visit with the Kaltukatjara group.

"My first time was at Docker, where I was doing some training for this kind of work," he said.

"Nobody has come out here before to clean out the swallow nests to look after all the paintings. It's part of the history for this country, that's why it's important.

"I reckon the traditional owners will be happy with it."
Mr Gorey agreed.

"I feel good that we can continue to do this, so the old people can see it," he said.
"I want to bring them here to show them what we have learned. When they see this they are going to feel happy."