CLC DELEGATES – REGION 9
Central
RON HAGAN
Yuelamu outstations
Languages: Anmatyerr, Warlpiri and English.
Worked on the Tanami gas pipeline, former team leader at the Central Desert Regional Council. Member of the local authority in Yuelamu. CLC delegate since 1996.
"I am proud to be elected as a community delegate for the CLC and want to improve the CLC. I learned from the elders talking about land and like spending time on my homeland. I support the Anmatyerr Cowboys."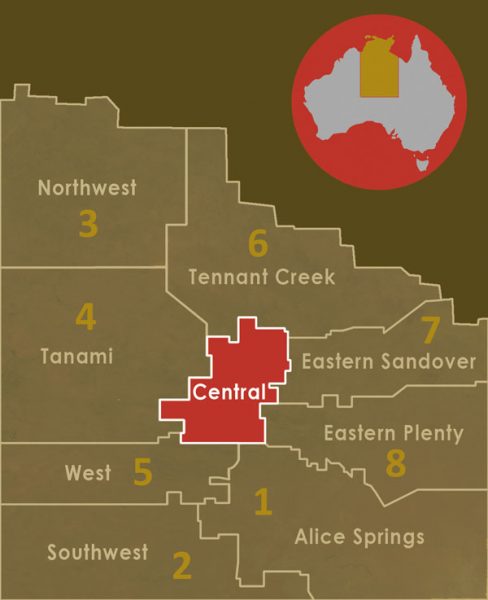 KIM BROWN
Barrow Creek outstations
Languages: Kaytetye, Warlpiri, Anmatyerr, Alyawarr and English
Stockman and fencer. Former Central Land Council Ranger in Ti Tree, CDEP supervisor and Anmatjere Council assistant mechanic, also worked for Centrefarm. Has a Certificate 4 in Training and Assessment.
"I'm proud of teaching the young fellas"
DAVID McCORMACK
Yuelamu (Mount Allan)
Languages: Anmatjerre, Warlpiri and English.
Former teacher at Yuelamu and Granites Mine Affected Area Corporation director. Member of Yuelamu's working group that plans and monitors community driven projects and funds them through community leasing and GMAAAC income. "I am proud of all the community projects of the last 10 years. My uncle was CLC chair William Brown. I'm going to step up and be chair like my uncle."
JAMES GLENN
Nturiya (Ti Tree Station)
Languages: Anmatyerr and English.
Former president of the Central Desert Regional Council, chair of its Ti Tree local authority in the Anmatjere ward.
"I coach the Ti Tree Roosters' football club."
TONY SCRUTTON
Pmara Jutunta (Ti Tree Six Mile)
Languages: Kaytetye, Anmatyerr, Warlpiri, Alyawarr and English.
Station hand at Ti Tree Station, former chair of the Anmatyerr Council and PAW Media and cultural supervisor at Charles Darwin University.
Details coming.
BOB PURVIS
Adelaide Bore (Woola Downs)
Languages: Anmatyere, English
Former station hand.
"I did 20 years of stock work and fencing. I currently do community work on my homeland, teaching young people the same. I'm on the Adelaide Bore committee."
PETER STAFFORD
Laramba (Napperby)
Languages: Anmatyerr, Warlpiri and English.
"As a young person I worked as a stockman at Coniston Station and as a tracker at Ti Tree. I have also been a night patrol officer at Laramba for 13 years and a road plant operator in my region. As a delegate I want to speak up and represent my community."
TIMOTHY PRICE
Tara (Neutral Junction)
Languages: Eastern Anmatyerr, Kaytetye and English.
Worked as a teacher for 10 years at Wilora and Neutral Junction. Barkly Regional Council member, former ATSIC councillor and first deputy chair of the Anmatjere Community Government Council. "I am really proud of my daughters, one of whom is now working as a teacher at Neutral Junction. I want to speak up strong for the region I represent and help outstation people improve housing."