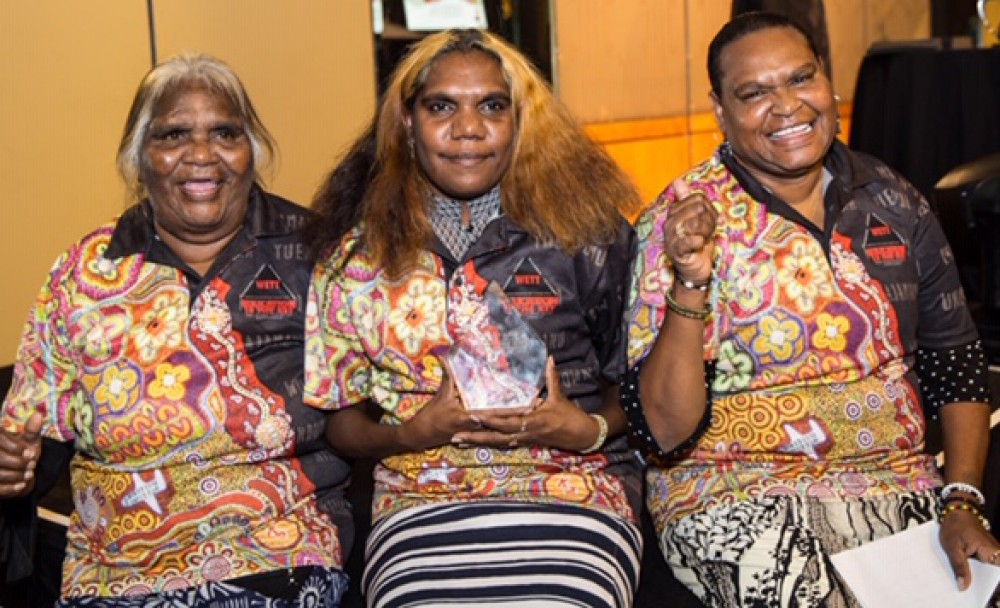 The Central Land Council celebrates its very first Indigenous Governance Award winner – the Warlpiri Education and Training Trust.
The WETT advisory committee last night won the non-incorporated organisations category of the award for its outstanding bilingual and bicultural education and lifelong learning programs in the Northern Territory's Tanami Desert.
The committee advises the WETT about how to invest gold mining royalties in community driven initiatives supporting the education and training priorities of four remote communities.
Fiona Gibson, a retired teacher from Nyirrpi community and a founding member of the committee, has helped to plan and monitor some of the CLC's most successful community development programs since 2005.
Ms Gibson accepted the award on behalf of her colleagues.
"We are very proud of what we have achieved working together and of our young people who are now working with us on the WETT advisory committee," she said.
"They are keeping education strong in our communities."
Accepting the award with Ms Gibson was Cynthia Wheeler, the new chair of the WETT advisory committee who works at the Yuendumu school.
From a new generation of educators, Ms Wheeler personifies the achievements of the committee's succession planning.
"Our message for everyone is that education is the key," Ms Wheeler told the award night crowd in Melbourne.
"Our vision is for Yapa [Warlpiri speakers] to be strong in their knowledge of culture, country and language and to stand up for our communities.
"Our voices will be heard. We will have the same opportunities as everyone else. Our children will be confident, knowledgeable, disciplined, healthy and respected. They will have good roles and jobs, as will the generations to come."
Both women thanked the traditional owners of Newmont's Granites gold mine and paid tribute to CLC director David Ross, one of the WETT's first and most enthusiastic supporters.
The trust kicked off the CLC's community development program through which dozens of Aboriginal groups in Central Australia have invested a total of around $100 million from their various land use agreements in projects they drive.
One of these groups, from the remote Alekarenge community, was highly commended at tonight's awards ceremony.
The WETT started when Ms Gibson and her teacher colleagues from Lajamanu, Yuendumu and Willowra asked Mr Ross to help them invest royalty payments in projects to improve education and training outcomes in their communities.
Since then, the trust spent almost $32 million on projects such as community learning centres, school excursions, early childhood and youth leadership programs, bilingual education resources and a Yapa curriculum.